Guide to using Yoast for SEO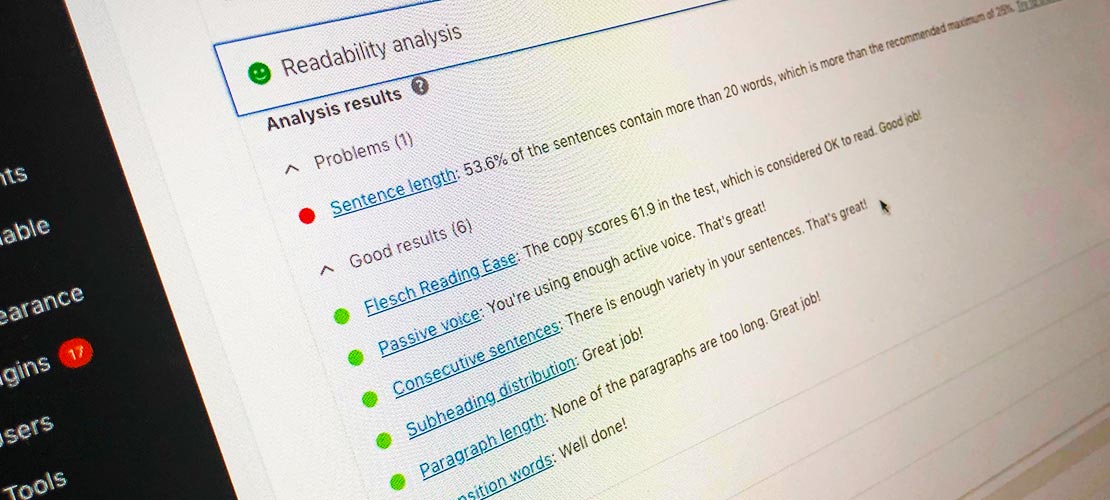 SEO, or Search Engine Optimisation, is a term used to describe any activity that has the purpose of improving a web page's search engine ranking. The importance of this cannot be overlooked.
According to Search Engine Journal, 93 per cent of online experiences start with a search engine, such as Google or Yahoo. Moreover, 60 per cent of all organic clicks go to the top three results.
Therefore, to increase a website's visibility on these pages, you must incorporate elements that are search engine friendly. Yoast is a plugin for WordPress that makes it easier to add these elements.
What's so good about Yoast?
With over a million downloads; Yoast is the most complete SEO plugin for WordPress. There are many benefits associated with it.
Firstly, when you write Meta information, you are able to see a snippet preview of how it will look on Google. You will know if you've inserted too many characters or too few. Each page gets a ranking, i.e. bad, poor, ok, or good. This lets you know the value of your page in terms of SEO. Of course, you will be aiming for good, but if you do not achieve it you will receive a comprehensive list of recommendations on how to do so, for example, you may not have included the keyword enough.
Another benefit of Yoast is that you can get verified Google Authorship, which is a way of connecting content with your Google+ profile. Yoast also automatically generates an XML sitemap file, which is advantageous because it means that you will be informing search engines about your content organisation.
Setting up Yoast
Installing Yoast is really easy. You can install it just like you can any other WordPress plugin. Simply head to Plugins, then select Add New, after which search 'WordPress SEO', you will then see 'WordPress SEO by Yoast' by Joost de Valk.
How to use Yoast for on-page SEO
Below, we're going to take you through some of Yoast's most useful features and how to use them for on-page SEO.
Snippet Preview – As mentioned, this helps you to see what your Meta title and description will look like on Google.
Focus Keyword – Set the keyword you want your content to be ranked at Google. The plugin will show you how many times this is used in your article heading, page title, page URL, content, and meta description. Make sure it is used once in all, apart from the content, for which it can be used it several times.
SEO Title – This is the title that will be viewed on your browser.
Meta Description – You can boost your click through rate and search engine result page ranking with a well-constructed Meta description.
Meta Keywords – It is advisable that you do not set these, as Google has not considered Meta keywords for ranking for quite some time.
Page Analysis – Once you have set the above and hit submit you will then get a coloured bubble. If this bubble is green, everything is just right. If not, take a look at the summary to see what you should change.
Product page SEO
It's important to remember that product pages are similar to content pages in the sense that all of the same SEO elements matter. Therefore, you need a great title that focuses on the name of the product, as well as a proper product description, inviting Meta description, and images with ALT text.
If you need help with your search engine optimisation strategy, don't hesitate to contact iprogress for more information.
---