Candis Magazine
Candis magazine is packed with interesting, informative, practical and engaging features that cover everything that is important to women families. Fashion, no-nonsense advice, insider secrets and tried and tested recipes and health pages will keep you informed. Every issue also has over £6,500 pounds worth of giveaways and magazine competitions with great prizes up for grabs!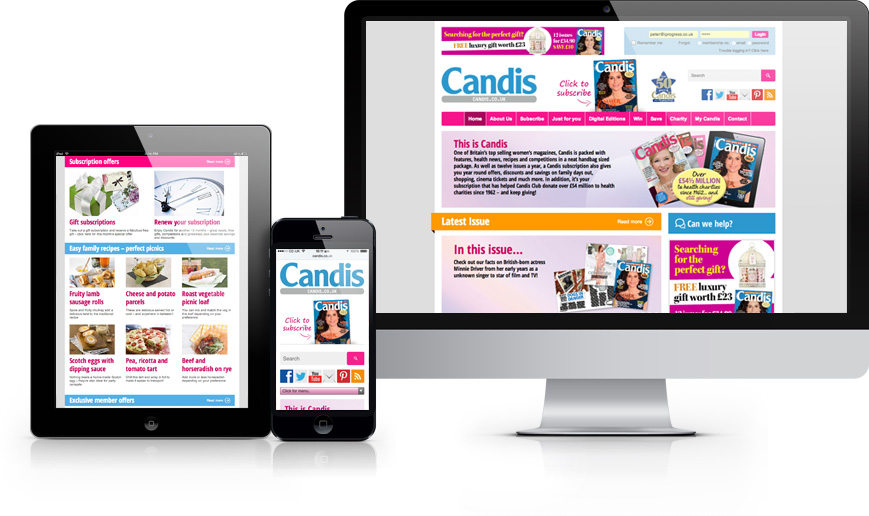 The magazine also donates a minimum of £250,000 from members' magazine subscription revenue, via Gift Aid, to The Charities Aid Foundation.
Iprogress designed and built the magazine themed fully responsive website to strict deadlines and style guides. Current membership subscription options are maintained on-site through various server integration techniques.
The project included working with Candis Magazines in house CRM platform. This needed to be seamlessly integrated into the website so that user details could be updated and subscriptions renewed through the website and the changes reflected on the CRM. This layer of programming works in conjunction with WordPress which is used for teh CMS and blogging platform.
With over 2000 pages we're sure you'll find something interesting to read especially all the tasty recipes!
iprogress have been great in building a new website with so many different functions that we need for our members, but also appealing for non-members. The after care service is really good and they are always quick to reply and help us out when called upon!
---